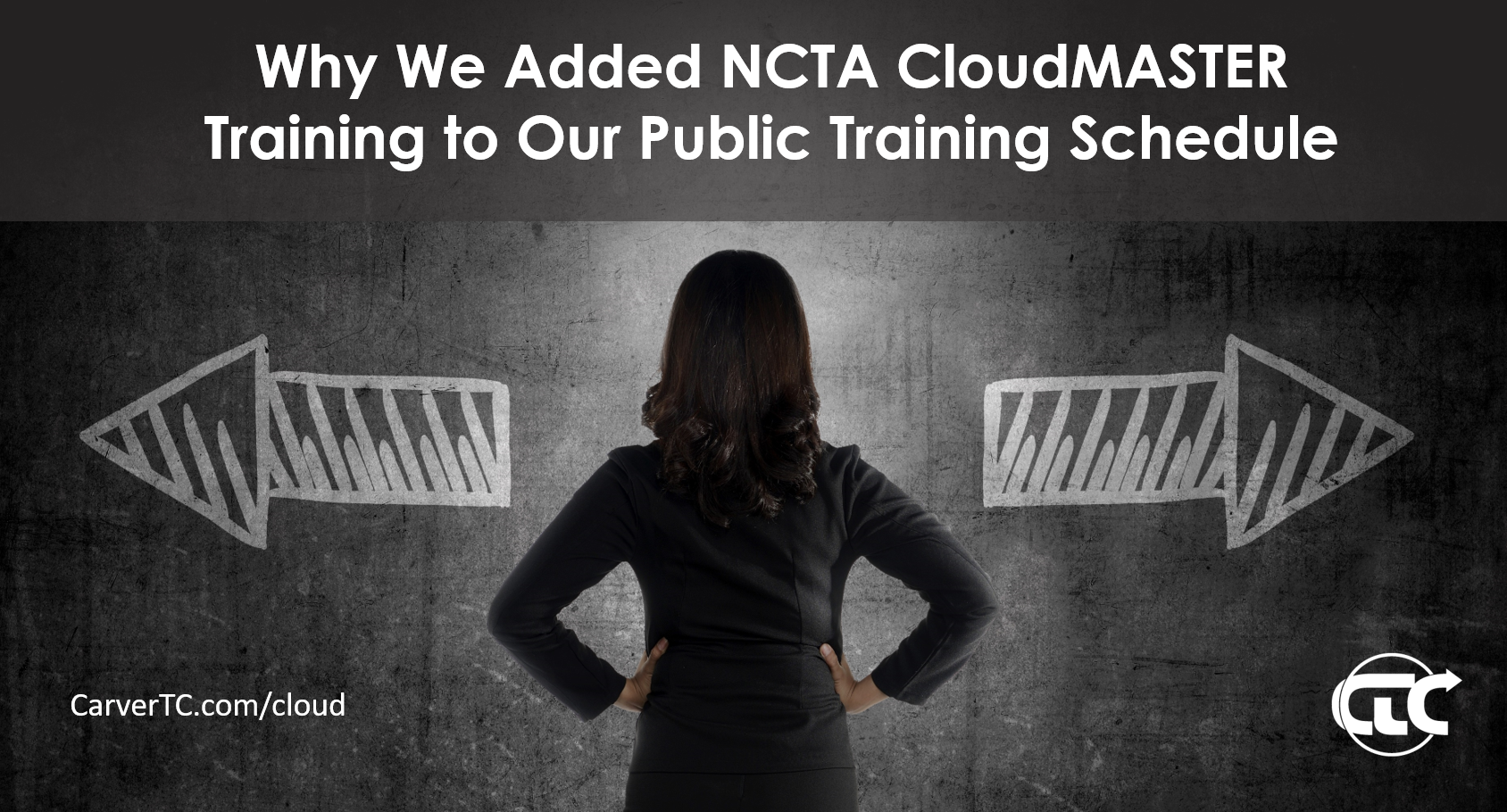 We recently posted our first schedule of public training classes. While we've been creating and delivering technical training courses for years, this is the first time we've decided to offer public classes. As I've been reaching out to my contacts to let them know, I've gotten one question, "Why now?" The simple answer is, CloudMASTER cloud computing classes are a unique compelling offering that, we think, could change the cloud computing certification landscape for a lot of IT organizations and IT professionals. In this article, I'll explain why this certification and the training curriculum moved us to offer these courses to the public.
A Technical Company with a Communication Problem
We've often said that we're a technical company with a communication problem. We cut our teeth over 16 years learning, then explaining highly technical products and services. We were "techies that could talk." That has served us well over the years as we have grew a consultancy that served hi-tech businesses and helped them launch their products. Training was been a natural fit for us. After learning everything there was to know about a product or service, be it an operating system release, or piece of social media marketing software, delivering training on those topics was a natural follow-on. Mentoring was another big part of our digital marketing consultancy. Training our clients how to set up social media profiles, or how to a content creation process in place, or to manage their communities was essential. Eventually we formalized some curriculum and started delivering that training as well.
Private or Public Training?
We did all of that training privately. At various points we advertised our curriculum, but we always did training in a responsive model, delivering training after clients requested it. We didn't want the hassle of running a training center, and having to put "butts in seats." We also had some issues with the way most public training courses were run. But, we were doing more and more cloud computing consulting, so, when we got the opportunity to partner with the National Cloud Technologists Association to build some courses to support their CloudMASTER cloud computing certification credential, we were forced to rethink our reservations about offering public training.
A Growing Cloud Consultancy Changes the Question
Cloud consulting was growing as a competency as more and more of our development customers used Platform as a Service (PaaS) to build and deploy apps, and as more of our digital marketing customers used cloud based apps to perform marketing services. As we interacted in these engagements, we provided consulting services from comparisons and evaluations of cloud solutions, to planning, guidance, and implementation. As I was working with Logical Operations and the NCTA subject matter experts to design the courses, the three natural roles, of cloud technologist, cloud operations, and cloud architecture emerged. I designed the courses around those three roles. Taking our experiences mentoring and consulting for clients, and NCTA's deep expertise in large and complex cloud migrations, we found that each class could play a role in our cloud computing and development consulting. So the question became, if we were going to teach it to our clients, why not put it on a public schedule?
Making the Decision
We knew from our experience that people needed this training. We knew that these classes would replace the ad-hoc mentoring we were doing for clients. We felt it was going to be popular and valuable, on par with Microsoft MCP/MCSE training and certification, or A+ or Network+ training and certification. So we sat down to address the concerns we had internally about offering public training. We developed a custom approach to delivering training both for cloud computing, and digital marketing topics. The more we worked through our approach, the more confident we became we could delivery high quality, experienced-based training, broadly. So we decided to post a public schedule.
Conclusion
Simply put, the growth of cloud computing, the content in these courses, and their associated certification paths were too compelling. We would be supplying the training privately anyway. That coupled with broad applicability to IT organizations and IT professionals everywhere, made us address our concerns about offering public classes. Once we did that, there were no more barriers to offering these courses publicly, and we're very excited to do so.
{{cta('cb624cbc-2262-447f-b448-808d81e3eb57')}}